Colleges nationwide recognize closing the achievement gap as a strategic priority. Forward progress for this objective is subject to an understanding of institutional data, and how that data relates to student success. In California, the California Community Colleges Chancellor's Office (CCCCO), the Institutional Effectiveness Partnership Initiative (IEPI) and the Research and Planning Group for California Community Colleges (RP Group) have created Applied Solution Kits (ASK) to help analysts work with and understand their own data sets so that they, in turn, can help their institution meet its goals.
One example solution kit is the Basic Skills Progress Tracker https://prolearningnetwork.cccco.edu/ask/resource/basic_skills_progress_tracker. While the chancellor's office has created a progress tracker for use state wide, Gavilan College wanted to go further. Higher Ed Profiles worked with Gavilan to create an on-line report that allows authorized faculty and staff to examine student success rates as they progress through basic skills courses up to transferrable credits. Like all Profiles tools, the user can drill down by student characteristics such as residency and age.
The tool is flexible enough to allow each institution to build its own set of course sequences. In fact, you are not limited to Basic Skills Courses. Four-year schools can follow freshmen progress for Limited Enrollment Programs, and other freshmen-sophomore-junior course sequences.
In addition to seeing the overall through rates for each level, Profiles shows how each course within a level contributes to the students success: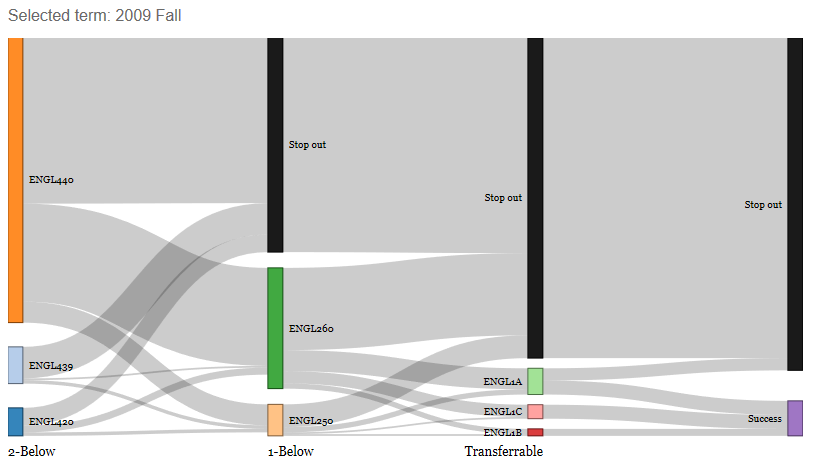 This report is part of the Profiles on-line query tool, and so it works consistently with the other census reports like academic program review, milestone tracking, headcount and enrollment counts, and degree counts.